OOOH OOOH I am always so thrilled when another Oofuri chapter is out! And this one (FINALLY OH MY GOD) ends the Tosei Arc. Oh lawd, thanks to the delicious and nutritious
makaioh, AND the whole
raep_time cadre for being tho thimply thpectacular.



I mean I knew Tosei lost like AGES ago because I am a vicious, irresponsible slut and read all the spoilers. I REGRET NOTHING

NOTHING

Of course Higuchi-mangaka-lady couldn't have written Tosei like a bodybuilding, conceited, wild-eyed, village-pillaging, women-raping team of douchebags, so even though I would have killed seven men if Nishiura had lost, I felt super extra bad for Tosei. Especially for Kazu's delicate pitcher, Junta, who cried like a weenie because he was going to miss making bedroom eyes at Kazu on the field. And after claiming that, the delicate pitcher mentioned, "I daresay all this a-rainin' has left me with a spell o' the vapors!" and then fainted on the velvet couch in the dugout like a proper lady. Kazu hastily readjusted his monocle as he searched around for Junta's big frilly fan.

All in all, the end of the arc left me with an unbridled desire for more SuyaSaka. Oh, and that the underdog

can

win, when he TRULY BELIEVES!!!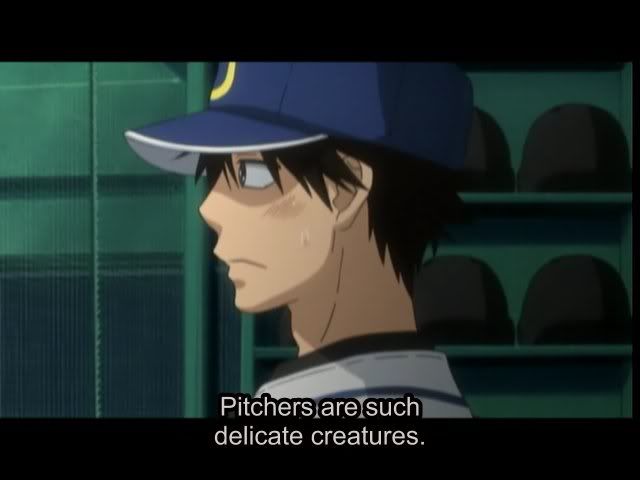 OLOLOLOLgay. (although I love how that statement is pretty much accurate for all the pitchers in Oofuri.)


SOME PEOPLE DO THEIR HOMEWORK LATE AT NIGHT.